Friends and Family!
Welcome to the new year =D
I know I'm a bit late to the party but, as they say, "better late than never."
I hope you all had a safe New Year's celebration and are getting along well in this glorious 2017 weather!
Here's to a year of great music.
<3 
Music, Music, Always Music. Oh, and Love too, I suppose 😉
FEBRUARY 18TH: LIA BOOTH, JACK WOOD, AND THE BRUSKERS GUITAR DUO @ BAHIA CORINTHIAN YACHT CLUB
The Bruskers are back, once again, on their third US tour and have come to the OC to grace us with their GENIUS! Crooner, Jack Wood, and I have the pleasure of opening the show up for this Italian duo with an hour and a half long set. Hope to see you there!
**See Flyer for Info**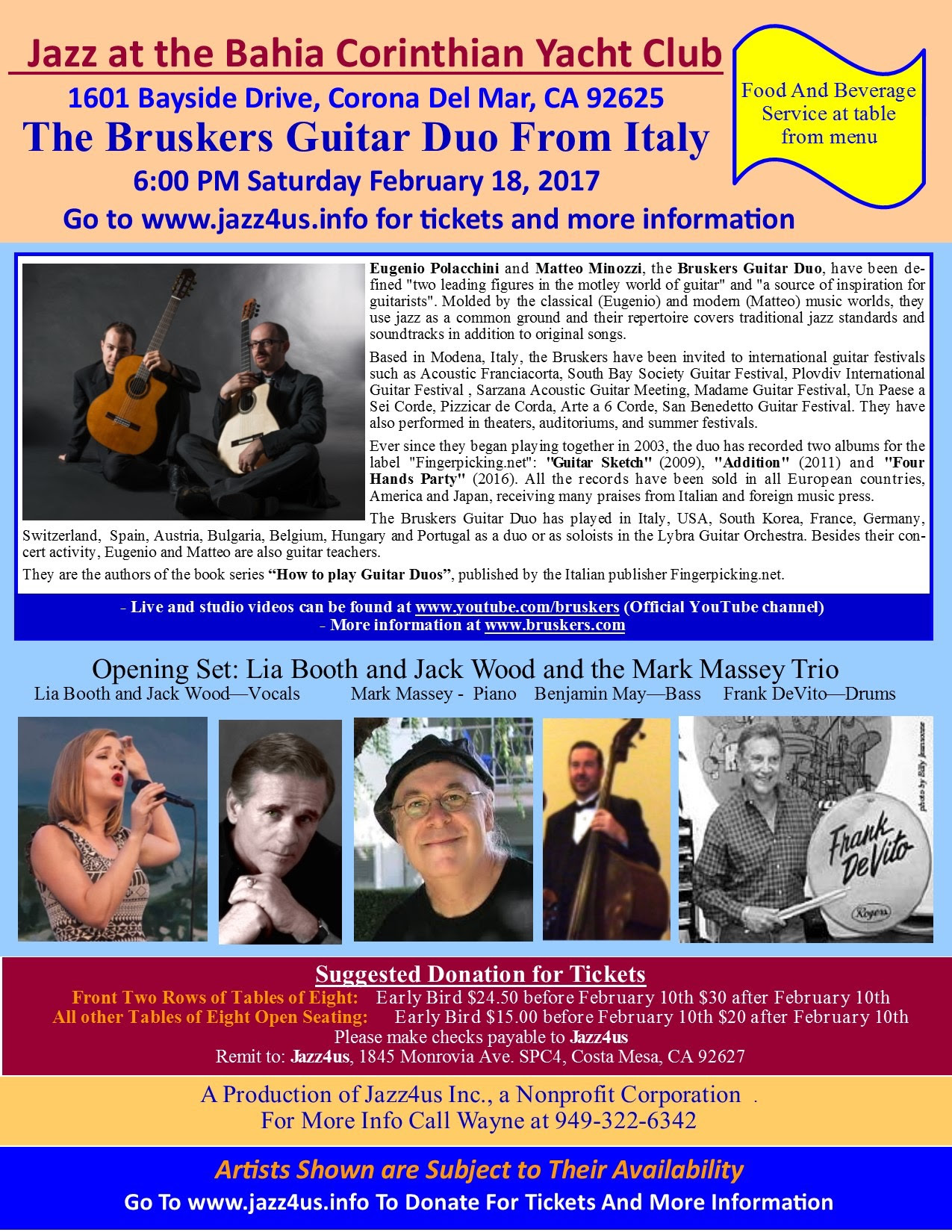 FEBRUARY 19TH: LIA BOOTH WITH BRADLEY YOUNG AND BENJAMIN MAY @ THE HOME OF CALJAS' DALE AND SUE BOATMAN
I am honored to have been asked to be a part of the CALJAS house concert series and this Sunday you will see why. The setting is intimate, the seats are limited, and the vibe is inspiring. Please join us for an evening of jazz in the home of Dale and Sue Boatman of the California Jazz Arts Society. This organization is one of the many reasons why I do what I do today, and I am so grateful. Please join us.

FEBRUARY 23RD: THE SPARE BUTTONS @ THE BRASS LAMP
This year The Brass Lamp has taken our residency to the next level and asked us to come in twice a month, 2nd Friday and 4th Thursday. This week we will be hanging at this awesome venue we have come to love dearly, so join us for some jazz, wine, and possibly a good book, if that's what you're looking for.
**8-10, No Cover, Downtown Long Beach**

---
---
REGULARS
Lia Booth: 2nd Tuesday of every month at the Port Restaurant and Bar in Hunting Beach, 7-10, No Cover. Subject to change so stay tuned!
The Spare Buttons:
 1) Most 
Thursday
 evenings
7-9pm
on 2nd St, Long Beach, in front of BofA! 2) Every 2nd Friday at The Brass Lamp in Long Beach! Stay tuned for time changes and such.