Friends and Family!
As y0u may know from my previous newsletters I recorded a whopping 13 tunes with some great friends of mine a few months ago. I am happy to announce that we have finally launched the first iteration of the project, A Beautiful Friendship EP! The EP is available for purchase on cdbaby.com/liabooth for $5! You can also catch me at any upcoming gig and purchase a hard copy in person if that better suits your fancy 🙂

This EP consists of 4 tunes from the original session and 2 ballads I have since recorded in collaboration with Tony Guerrero. Enjoy!!
<3 
Its Election Day! 
Lets Talk About Jazz!
NOVEMBER 9TH: LIA BOOTH & GUEST GUITARIST SHANE SAVALA @ THE PORT RESTAURANT AND BAR
This month our usual Tuesday night at the Port was hijacked by the ELECTION! So we have graciously agreed to move to Wednesday night for a little R&R after the madness of this political season. Joining me tomorrow night will be phenomenal guitarist Shane Savala, sitting in for my brother Bradley Young. Come hang with us and get away from the crazy with a cocktail and some jazz.
7-10pm
*No Cover Charge*
440 Heliotrope Ave, Corona Del Mar, CA 92625
NOVEMBER 11TH: THE SPARE BUTTONS @ THE BRASS LAMP
We are back at The Brass Lamp on our normal 2nd Friday! Come hang with us and enjoy a good drink, the smell of old book pages, and live jazz! 
8-10pm
*No Cover Charge*
245 The Promenade N #100, Long Beach, CA 90802

NOVEMBER 12TH: LIA BOOTH & THE BRADLEY YOUNG QUARTET @ THE PILSNER ROOM
"Saturday, November 12 at The Pilsner Room at McCormick and Schmick's in Irvine – make your reservations for what will surely be a sold out concert – the brilliant vocalist Lia Booth will be performing with an outstanding quartet featuring Benjamin May on bass,Bruce Babad on sax, Jon Stuart on drums, and yours truly, Bradley Young on piano.
If you have yet to hear this amazing rising Jazz Star – this is a great opportunity to see and hear her – in a beautiful room, with excellent acoustics – and The Pilsner serves up some really excellent food as well. So – please call promotor Wayne Biessman direct at 949.322.6342 to book your table now!"
This blurb, written by Bradley Young, was so good I had to use it=D
2000 Main St, Irvine, CA 92614.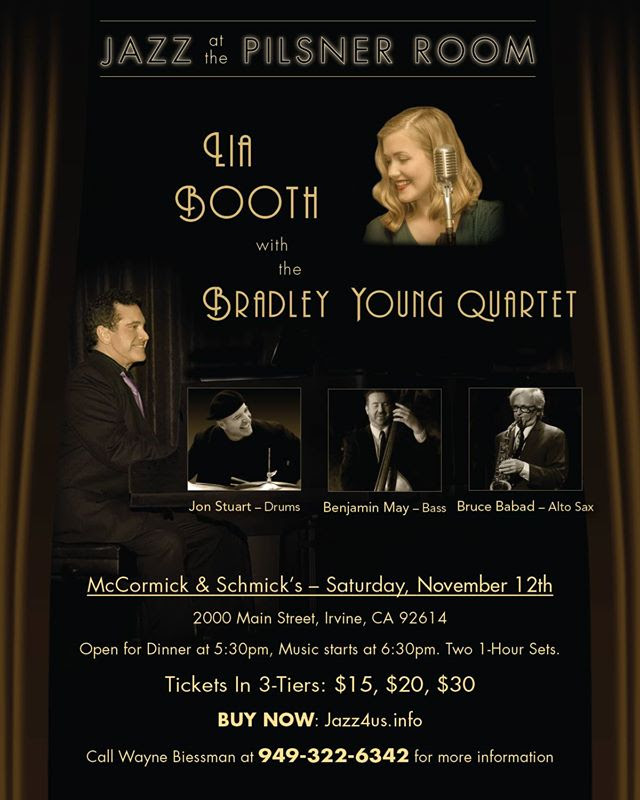 2000 Main St, Irvine, CA 92614
---
---
REGULARS
Lia Booth: 2nd Tuesday of every month at the Port Restaurant and Bar in Hunting Beach, 7-10, No Cover. Subject to change so stay tuned!
The Spare Buttons: 1) Most Thursday evenings 7-9pm on 2nd St, Long Beach, in front of BofA! 2) Every 2nd Friday at The Brass Lamp in Long Beach! Stay tuned for time changes and such.
---
Have You Seen My New Website? Check It  Out!
Copyright © 2016

Lia

Booth

(Marsh) Jazz, All rights reserved.
You are receiving this email because 1. You opted in on the website to receive

updates

on

Lia

Booth

's life of Live Jazz! 2. You gave us your email in person with the desire to receive

updates

on the aforementioned musical experience. 3. You love

Lia

and she already has your email address!

Our mailing address is:

Lia

Booth

(Marsh) Jazz

2301 E Market St.

Long Beach, CA 90805

Want to change how you receive these emails?
You can update your preferences or unsubscribe from this list